ROBB BRADSTOCK
Robb Bradstock was born in England and moved to Ireland in the 1970's where he set up Coolavokig Pottery near Macroom in County Cork in the South West of Ireland.
In the early 1980's he travelled extensively in South America, particularly in the Andes where he became a keen photographer and kept detailed journals of his travels.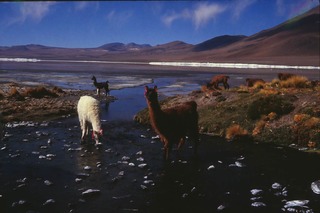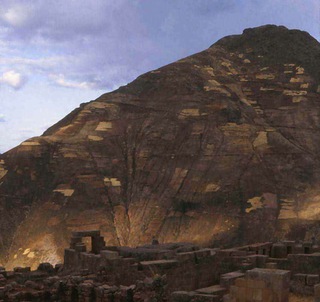 Lago Colerado, Bolivia.                                                     Pisac ruins, Peru.
In 1983 while travelling in the USA, he met Meredith Flandreau who was also a potter. They returned to Ireland and re-established Coolavokig Pottery in 1984. 
                                                                                    Robb trekking in Zanskar, near the Shingo La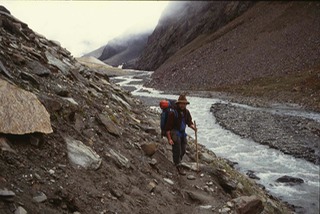 In 1989 they made their first journey to the Indian Himalayas where they became involved in an unofficial mountain rescue that lasted several months. It was during this time that they had their first contact with the Dalai Lama and Tibetans living in exile as well a semi nomadic people called the Gaddhis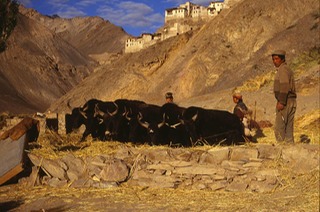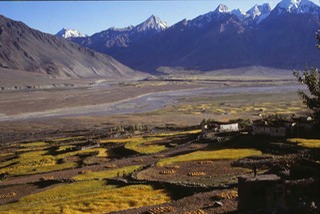 Threshing barley at Lamayuru in Ladakh.

They returned to India in 1991 when they trekked through Ladakh and Zanskar, a Buddhist region of the Himalayas. Later they crossed India by train to visit Darjeeling and Sikkim. In 1994 Robb and Meredith made their most adventurous journey so far. They trekked without guides or horses from Leh in Ladakh to Shimla in the foothills of the Himalayas. This trip took almost ten weeks and they walked about 800 km/500 miles, crossing many high passes.On this trek they passed through the region of Spiti and Kinnaur that had only recently been opened to foreigners.                                                                          
As Robb and Meredith spent long periods of time in the Indian Himalayas they became familiar with the ways of life of several different cultures that often lived side by side. Over the years they witnessed the increasing influences of the outside world and became concerned about what was happening to indigenous cultures, particularly the Tibetans and the Gaddhis. In late 1994 Robb made a radio documentary for Irish radio, RTE, that highlighted the plight of the exiled Tibetans. You can listen to this program by going to the link below
 http://www.rte.ie/radio1/doconone/radio-documentary-tibetans.html 

Ten years later he returned to make a feature length documentary film The Tibetans. A Life in Exile on the same subject, after seeing what he felt was a deterioration in exile life. This film was completed in 2007 and has been screened in  film festivals in Europe and around the world.
You can watch an 8 minute interview with Robb that was shown on Irish TV, RTE, about the film.
 http://www.rte.ie/news/av/2007/0716/nationwide.html
Robb continues to make films. For more details go to  Completed Projects